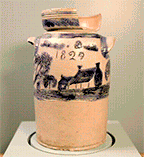 Scholars have recognized Thomas Mitchel Chandler Jr. (1810–1854) as a significant nineteenth-century potter in Edgefield, South Carolina.[1] However, his earliest known piece of pottery actually connects his potting story to roots on the Eastern Shore of Virginia.[2] The object itself is a relatively simple form—a salt-glazed, Baltimore stoneware butter churn, a little less than a foot tall and seven inches wide. The incised, cobalt-slip decorated scene the churn displays is an agricultural landscape, with a detailed farmhouse, outbuilding, cow, five trees, and a woman churning butter in her own decorated churn (Figures 1 through 4). Two lug handles sit high on opposite sides of the churn, close to the neck. Incised lines and cobalt slip decorate a high collar. The churn is marked on its side with the name "Mitchel Chandler" and the year "1829", and inscribed on the bottom "Thomas M. Chandler / Maker / Baltimore/ August / 12 / 1829" (Figure 5).[3]
Why is so much attention paid to the scene depicted on such a workaday object, and an everyday scene of agricultural life? The answer may be found in the particular "who" and "what" depicted in this scene, and their sentimental meaning to the artist and maker. A major clue lies in the incised dedication, as well as the family history of the churn itself. The scene decorating the butter churn illustrates a landscape and lifestyle once found in nineteenth-century small towns all over Accomack County on Virginia's Eastern Shore (Figures 6 and 7). It is in this way that the churn acts as more than just a vessel for cream and butter, and becomes a vessel for memories as well. By looking at court and county records of the late eighteenth and nineteenth centuries of Drummondtown, Virginia, where the Chandler family was living from the early seventeenth-century on, the story of a property lovingly referred to as "the "Old Place" and the family that lived there can be explored and remembered as Thomas Chandler remembered it on his churn.
Thomas Mitchel Chandler Jr. was born to Thomas Chandler and his wife Elizabeth Wise in 1810, in the town of Drummondtown, Accomack County, on the Eastern Shore of Virginia.[4] Drummondtown itself no longer exists, as the town's name was changed to Accomac (no ending "k") in 1863.[5] Thomas was at least the sixth generation in his family to be born on the Eastern Shore, to a family that had been living in Accomack County since the seventeenth century.[6] Thomas Chandler Sr. had been orphaned at the age of sixteen, and sent to Baltimore, Maryland where he was apprenticed to a Windsor chairmaker. It was there that he married Elizabeth Wise in 1802, and soon after their marriage the newlyweds returned to the Eastern Shore where Chandler continued to work as a Windsor chairmaker. Thomas Chandler Jr. was raised in Drummondtown for the first seven years of his life, in one of the lots his father rented on Cross Street, until his immediate family once again moved to Baltimore in 1817. Thomas Chandler Sr. set up his Windsor chair shop in an area of Baltimore already heavy with craftsmen, and a number of pottery manufacturers stood within easy walking distance of the Chandler chair shop. A teenage Thomas probably learned the art of pottery from visiting these nearby shops and manufactories.[7]
Chandler's churn is a utilitarian piece of pottery necessary for making butter, a kitchen essential, but he takes its functional use a step further by illustrating it with the story of a lady making her own butter. The image on the utilitarian churn can be viewed as a landscape painting, telling a full story of place and time (clearly marked by Chandler as the year 1829), and thus read as one would read a piece of fine art. There is a traditional multi-room farmhouse with a shaded porch and a wealth of descriptive details. A smaller wooden-slatted outbuilding stands to the left of the house as the viewer faces the image, with a severely angled roof, sitting under the shade of the trees. There is an anatomically correct cow (with udders) standing under the shade of another stand of five trees. In the foreground stands a lady with a cap covering her hair, and her very own decorated stoneware churn and churning pole. The cow would have been milked that very morning, and the milk and cream stored in containers, possibly also made of stoneware, in the portable dairy, the outbuilding standing over to the side and shaded by the trees.
The details Chandler chose to include in his landscape might seem insignificant, but they in fact reveal a great deal. The function of the churn itself is to assist in the dairying process, and the scene depicted reinforces the actual purpose of the vessel. The outbuilding could be interpreted as a number of spaces—slave quarters, a chicken coop, even a privy—but only if it was in a different context. As it stands, the only sensible way to read that building is as a portable dairy (Figures 8 and 9). These lightweight structures were made out of wood, would have a slanted roof overhang for shading the food inside, and could be placed next to a well for cooling purposes, or at the very least, under shade trees (for the same reason), much as Chandler has placed it in his landscape.[8] Permanent free-standing dairies from the eighteenth and nineteenth centuries can still be seen throughout Virginia, and as originally built would have stood apart from the smoke and dirt of other outbuildings as shining white beacons of cleanliness and cool air (the qualities needed for successful dairying).[9] [10] However, for families who used dairy products solely for personal use rather than profitable gain, a smaller portable dairy was much more sensible.
The cow and the lady are both characters in this drama, and even her churn in the picture is further decorated with its own incised foliate design (Figure 10)—perhaps it was modeled after a design by potter Henry Myers (w.1812–c.1835) that Chandler would have witnessed in a shop in Baltimore (Figure 11). Myers was one of the stoneware potters working quite close to where Thomas grew up in Baltimore, and Thomas's younger brother George was actually apprenticed to Myers in 1831, just a few years after Chandler made his 1829 churn.[11] Henry Remmey Sr. (b.c.1770–1841) was another established stoneware potter working in the Baltimore neighborhood of Thomas's youth.[12] Well-known for his beautifully detailed pictorial scenes (Figure 12) perhaps a young Thomas also watched Remmey at work and learned from his ability to tell a story on stone.
The Chandler churn shows us a wood-shingled farmhouse with at least one brick side, two brick chimneys, and two dormer windows on the second floor. There is a full-length porch, and a one-floor addition to the main house on what is likely the southern façade, as brick walls were traditionally built on the northern side of homes on the Eastern Shore to protect from the bad weather that typically comes from that direction. "Big house, little house, colonnade, and kitchen" is the typical Eastern Shore vernacular, representing additions over time, and resulting in the "added onto" idiom so prevalent on the Eastern Shore.[13] Similar dwellings to the house sketched on the churn still dot the Eastern Shore (Figures 13 and 14), and can be found on nearly every page of Ralph Whitelaw's exhaustive two-volume study of Eastern Shore architecture.[14]
Thomas M. Chandler Jr. was the sixth generation of a family to be born and live on the Eastern Shore. His great-grandfather John Chandler III (b.c.1722–d. before 27 March 1781) wrote in his 1781 will to his eldest son Mitchel(l) Chandler (c.1750–1796, the potter's grandfather): "I give and bequeath to my son Mitchel Chandler all my land & houses whereon I now live to him and his heirs forever."[15] Mitchell Chandler then writes in his 1796 will that, "when the youngest of my Children arrives at the age of twenty years I give unto my son Mitchell all my lands vizt. the Plantation whereon I now live…to him his heirs & assigns forever."[16] This eldest son, Mitchell Chandler (1780–1851), the potter's uncle and whose name is written on the discussed churn, writes in his will that he gives, "to my son Thomas B. E. Chandler all the lands called the "Old place" (where I was raised)."[17] The lands and structures on them lovingly referred to by Uncle Mitchell in the twilight of his life in 1851 expose a deep-rooted sentiment for the place where he grew up, which would be even more understandable if it was not only the land he spent his childhood, but the lands that had then been passed down to him by his father, and which had been bequeathed to his father by his father before him.
While it is unlikely that the house shown on the churn would still be the same plantation farmhouse from the lifetime of John Chandler III, it represents land that it was built on, and land that would have remained in the family who stayed in Accomac throughout these generations. Uncle Mitchell's will also makes it clear that this land, the "Old place," is to stay in the family, bequeathing it to his eldest son Thomas B. E. Chandler "during his life & then ½ to his children & ½ to his 3 sisters or their children… ." Mitchell goes on to write that should his son Thomas "die without children, then his children's share to his brothers & sisters," ensuring that the beloved land would continue to stay in the family.[18]
The detail with which Accomack County court officials kept records in earlier centuries means it is now possible to glean all sorts of information from these account books. There are records of the inventories of the men mentioned above, and accounts of the sales of these households after their deaths. Through the bequests written into the wills and the probate inventory lists, it is possible to recreate the households and lifestyles that these figures actually moved amongst and lived.
When the churn is read as depicting Mitchel Chandler's farm in 1829, the farmhouse actually is the "Old place," and thus the reason for its depiction and its placement on a gift for Thomas Chandler Jr.'s aunt and uncle who not only live there now, but were raised there. In this case, it is possible to populate both the house and yard with the household of old Mitchell Chandler, the potter's grandfather, directly from the items listed in his will and inventory.
The farmhouse looks to be a double-cell dwelling with a second floor, allowing for four main rooms on both floors, as well as at least one staircase. The side house addition, if going by traditional Eastern Shore architectural types, is likely the kitchen house, possibly connected to the main house by a colonnade hidden by the angle from which the house is sketched. Judging by Grandfather Mitchell's will and inventory, there would have been eight beds in the house (the seven best bequeathed to his children), along with furniture including a walnut table, a mahogany table, a new mahogany desk, a walnut desk, a large chest, and "old dressing drawers & chest" (noted as having belonged to daughter Patience).[19] Mitchell also bequeathed one "large looking glass" to his younger daughter Betsey, and one can only wonder if this is the same "great looking glass" that John Chandler the third appended to the end of his will, bequeathing it to his son Mitchell, having "forgot to put in the above witness."[20]
In addition to the bequests, the inventory lists a variety of crops (peas, beans, oats, corn, and flaxseed), a number of farming tools (plows, hoes, axes, rakes), an array of animals (horses, cows, steers, bulls, heifers, calves, sheep, and shoats), as well as forty-four gallons of brandy, four "cyder" casks, and three open casks. There are also a great number of kitchen and household items listed, including three stone jugs (perhaps used in the dairying process), china dishes, cups, saucers, sugar dish, and "milk potts" as well as silver tablespoons, teaspoons, and sugar tongs and brass candlesticks, tumbler glasses, decanters, and a glass pitcher and bottle.
Mitchell Chandler's inventory and will also tell us what we are not seeing in the scene on the churn, which is that there are four enslaved people living and working on this plantation—a man named Southey, a woman named Thamer, and two girls, named Ginny and Miriam.[21] They would have been farming the profitable crops that allowed for such fine things as green-edged creamware platters and brass candlesticks to be bought for the family house, and allowing the white women of the house to spend their time on activities that were not bringing in substantial money, such as dairying. Chandler's decision to leave Southey, Thamer, Ginny, and Miriam out of his illustrated narrative is just as telling as if he had included their figures in his scene. As in so many narratives, slavery is there, but it is not be seen or remembered.
The churn has been in the family since it was first made in 1829. Family lore, and the churn itself, tells us that Thomas made the churn for his Uncle Mitchell Chandler and Mitchell's sister Rosey Chandler Fitzgerald (1772–1858).[22] Although Thomas Chandler's family had moved from the Shore to the city of Baltimore in 1817, it seems that young Thomas would often return to visit his extended family. The story handed down with the churn, generation after generation, is that when Thomas would return to the Shore, his Aunt Rosey would make him gifts of homemade butter, rolls, and biscuits to take back to the big city. As a thank you, Thomas made her the churn, decorated with her likeness.[23] According to county court records and census records, both Aunt Rosey and Uncle Mitchell were widowed by 1829 and in the 1850 census a 78-year-old Rosey was listed as living in 70-year-old Mitchell's household.[24] The churn was passed directly down through Mitchell Chandler's descendants, up until its ownership by J. Fulton Ayres (1916–2003), Mitchell's great-great-grandson, and Rosey's great-great-great-nephew.
This churn multiplies its reasons for existence: it is not merely a functional object, valued for its everyday utilitarian use, and it is not only a decorative object, valued for its aesthetic merit and ornament nearly two hundred years after it was made. It surpasses both utilitarian and artistic functions and acts as documentary evidence of life on the Eastern Shore of Virginia in the late eighteenth and early nineteenth centuries as well as a sentimental storyteller and memory holder of nostalgia, providing the viewer a glimpse into Thomas Chandler's vision of home and his childhood. Chandler's churn has many stories to tell and there are other avenues that remain to be explored and pursued further, including additional study on the Chandler homestead and its location.
Court records, census reports, architectural surveys, and histories of life on the Eastern Shore in the early nineteenth century make it possible to piece together a picture of the Chandler family in the period. If one takes the time to look and imagine, however, the churn tells its own story of family relationships and longing for simpler, sweeter childhood days. Thomas Mitchell Chandler Jr. went on to move to New York, join the army, and then travel deeper south to the Carolinas and Georgia where the pottery he made ensured his name would be known by decorative arts historians for centuries to come.[25] His pottery career flourished in the second quarter of the nineteenth century, and the work he completed during this time at the kilns and potteries of Edgefield, South Carolina, where he was part of the alkaline-glazed tradition of southern pottery, is what he is best remembered for today (Figures 15 and 16).[26] He is never known to have returned to the Eastern Shore of Virginia, his childhood home and family homestead.
Throughout the rest of his illustrious career he never made another object quite like the churn. Thomas's artistic abilities shine through in a circa 1840 water cooler attributed to his hand (Figure 17) that also depicts a detailed scene with figures, although quite different from Aunt Rosey and the farmhouse. Chandler's butter churn retains its significance in his work not just for being his earliest known piece, but also the most intensely personal.
Objects as memory palaces are powerful things, but they tend to tell us more about an imagined past built out of desire, rather than reality. Still, driving along Route 13 on the Eastern Shore today, it is easy to look out at the farms and fields passing by, and imagine that Aunt Rosey is just behind a white-washed house, carrying her stoneware jugs from the dairy in the sweet-scented summer air, the grass already warm from the August sun, the cow cooling off under the shade of a leafy tree. The churn shows off Chandler's technical potting abilities, but it also exhibits his gift as a true artist, telling a story of hearth and home—and warm buttered biscuits—that still resonates with us today.
Katherine Hughes is currently serving a fellowship on the curatorial staff at Colonial Williamsburg. This article is based on her 2016 MESDA Summer Institute project. She can be reached at [email protected].
[1] Philip Wingard, "From Baltimore to Edgefield: The Influence of Thomas Chandler on 19th Century Stoneware," Ceramics in America 2013, edited by Robert Hunter (Milwaukee, WI: Chipstone, 2013), 3; available online: http://www.chipstone.org/article.php/538/Ceramics-in-America-2013/From-Baltimore-to-the-South-Carolina-Backcountry:-Thomas-Chandler's-Influence-on-19th-Century-Stoneware (accessed 22 February 2018).
[2] Hereafter, whenever the "Eastern Shore" is referred to it will mean exclusively the Eastern Shore of Virginia. For more on the Eastern Shore, see H. Chandlee Forman, The Virginia Eastern Shore and its British Origins: History, Gardens & Antiquities (Easton, MD: Eastern Shore Publisher's Associates, 1975).
[3] See online collection record for MESDA Acc. 5813.47, The William C. and Susan S. Mariner Collection: http://mesda.org/item/collections/churn/21258/ (accessed 22 February 2018).
[4] Wingard, 3–4.
[5] See foreword in L. Floyd Nock III, Drummondtown "A One Horse Town" Accomac Court House, Virginia (Verona, VA: McClure, 1976).
[6] M. K. Miles, "MilesFiles," Chandler family genealogy, Eastern Shore Public Library, Accomac, VA; online: http://espl-genealogy.org/MilesFiles/site/index.htm (accessed 22 February 2018).
[7] Wingard, 3–6.
[8] Michael Olmert, "Dairies: Cool, Calm, Clean," Kitchens, Smokehouse and Privies: Outbuildings and the Architecture of Daily Life in the Eighteenth-Century Mid-Atlantic (Ithaca, NY and London: Cornell University, 2009), 108–112.
[9] A fine, upscale example is the dairy at Eyre Hall on the Eastern Shore. A number of others can be found in the Historic American Buildings Survey (HABS) At Colonial Williamsburg there are five original dairy buildings and twenty-seven reconstructions. For additional information on dairy structures in the South, see John Michael Vlach, Back of the Big House: The Architecture of Plantation Slavery (Chapel Hill: University of North Carolina, 1993), 77–80, 87–92.
[10] The Progress of the Dairy; Descriptive of the Method of Making Butter and Cheese (New York: Samuel Wood & Sons, 1819), 4–9.
[11] Wingard, 4–5, 8.
[12] Ibid, 4–5. Additional information on Remmey can be found in Luke Zipp, "Henry Remmey & Son, Late of New York: A Rediscovery of a Master Potter's lost Years," Ceramics in America 2004, edited by Robert Hunter (Milwaukee, WI: Chipstone, 2004), 143–156; available online: http://www.chipstone.org/article.php/156/Ceramics-in-America-2004/Henry-Remmey-&-son,-Late-of-New-York:-A-Rediscovery-of-a-Master-Potter%27s-Lost-Years (accessed 22 February 2018).
[13] Conversation with Ralph Harvard, antiquarian, Summer 2016.
[14] Ralph T. Whitelaw, Virginia's Eastern Shore: A History of Northampton and Accomack Counties, Vols. I and II (Gloucester, MA: Peter Smith, 1968).
[15] Accomack County Court Records, 6 February 1781. Cited from microfilm in the MESDA Research Center, VA.C.A.1.MFm.54, Winston-Salem, NC.
[16] Ibid, 5 November 1796, VA.C.A.1.MFm.54.
[17] M. K. Miles, "MilesFiles."
[18] Ibid.
[19] Accomack County Court Records, 5 November 1796 and 21 November 1796, VA.C.A.1.MFm57 and VA.C.A.1.MFm.58, respectively.
[20] Ibid, 5 November 1796 and 6 February 1781, VA.C.A.1.MFm.57 and VA.C.A.1.MFm.54, respectively.
[21] Ibid, 21 November 1796, VA.C.A.1.MFm.58.
[22] M. K. Miles, "MilesFiles."
[23] Telephone conversation with Gordon Lohr, collector, Summer 2016.
[24] 1850 Federal Census, St. George's Parish, Accomack Co., VA.
[25] Wingard, 8–36.
[26] For more information on Thomas Chandler's later work, see Cinda K. Baldwin, Great & Noble Jar: Traditional Stoneware of South Carolina (Athens: University of Georgia, 2014), 47–54 and Philip Wingard, "South Carolina Stoneware: Smiling Faces, Beautiful Places, Runny Glazes," in Great Pots from the Traditions of North & South Carolina, edited by Mark Hewitt (Seagrove: North Carolina Pottery Center, 2017), 1–73.
© 2018 Museum of Early Southern Decorative Arts